Mohawk Girls
Working for many years as a documentary filmmaker, Tracey Deer came to a point in her career where she hit a creative wall – the passion for a new story wasn't coming to her. That's when the idea for Mohawk Girls hit – real life challenges faced by young women coming of age in their traditional Mohawk culture and the "outside world." Tracey, Mohawk herself, took many of the experiences from her own life and those of her family as direct inspiration: "The idea came from my life. As a documentary filmmaker, I took notes from my own life with my sister." Needing the help of a fiction storytelling master, she went to Rezolution Pictures who brought on Cynthia Knight.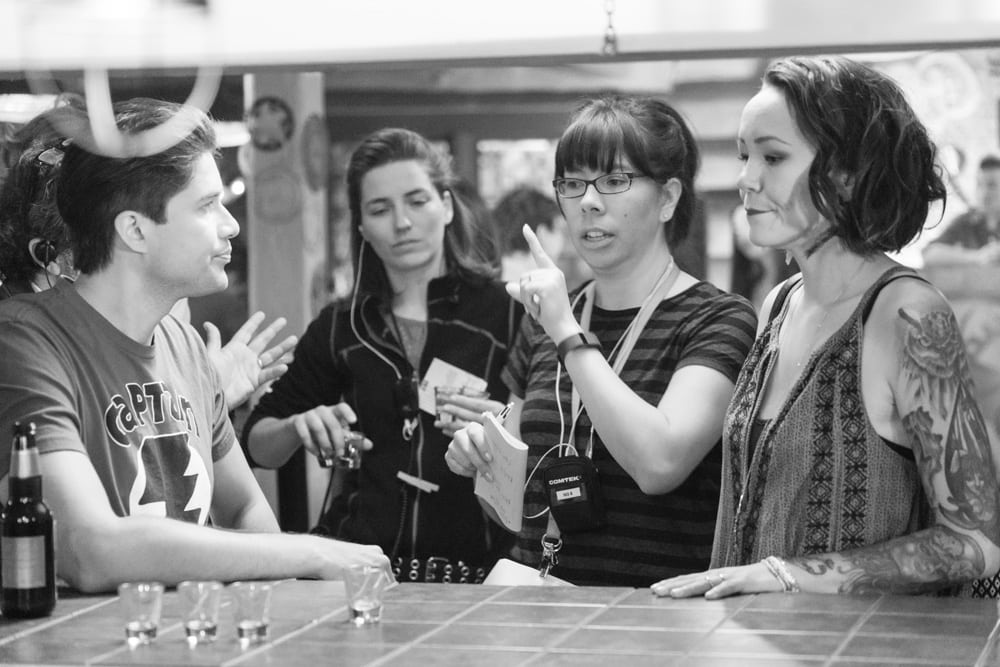 Tracey directing Meegwun Fairbrother and Maika Harper (Photo credit: Mathieu Couture)
Cynthia had seen Tracey in Playback's Ten to Watch list and knew they would work well together. The idea behind Mohawk Girls, something like Sex and the City on a native reserve, deals with themes close to her heart. Cultural decisions, family obligation and community responsibility are full of relatable opportunities and challenges. Growing up Jewish, Cynthia resonated with being a minority: "It shows how similar we all are. It's fresh and unique with universal appeal."
After a successful pilot on APTN, the team waited for a spot, eventually landing Tuesday night. While Tracey handles directing and the details, Cynthia heads writing, looking at the big picture and overall story arc. And they both bring their dating experience to the script.
The entire show is shot on location at the Kahnawake Reserve just south of Montreal. Tracey's actual residence, all of the sets are genuine homes and businesses. The café, bar, homes and community places give authenticity. An occasional set is constructed using existing structures, such as turning an old church into a wine bar to depict a scene in Montreal.

Mohawk Girls and crew (Photo credit: Mathieu Couture)
With a crew of 40 people, it can be hard trying to fit everyone into small rooms. Not being able to remove a fourth wall makes for a challenge but after four years, "the team flows on its own now, a train on a track." Working with the community so closely, it's all about relationship. For Tracey, working in her own hometown means "taking great care of everyone that comes on board to help." After four summers of descending on the community, they continue to be welcomed back, with permission from the Band Council. "We're so touched by the amount of support my people have thrown to the project."
In addition to the authenticity of location, the stars of the show bring the stories home. Brittany LeBorgne (Zoe) and Heather White (Caitlin) are both from Kahnawake and have known Tracey since their childhood. Maika Harper (Anna), Inuit, and Jennifer Pudavick (Bailey), Métis, were found through a national search. The cast is rounded out with award-winning Aboriginal actors from across Canada and many community members take part as extras. This is a powerful factor in the success of the show. "The community is so proud to see themselves on screen."

Tracey Deer and Cynthia Knight (Photo credit: Mathieu Couture)
A particularly proud moment for Tracey was filming a powwow for the Season 4 Finale. There was one shot with Anna and Elijah that was especially moving: "Watching all of the dancers, running out of time at sunset, giving it their all, take after take. It was so beautiful." With over 150 extras it was the biggest shoot they'd taken on. "We're proud to be able to share this with all Canadians, Indigenous or not. I feel so blessed to do what I do. I dreamed of this when I was a 12-year-old girl and people told me it would be impossible to do. It's this crazy dream come true."
And Cynthia relates: "We put ourselves into the show and it continues to be a big part of it. We've both come a long way personally, in relationships and self esteem…
We wrote in a powwow in the first season and wanted to do it since then. To be able to do it in the end in a bigger and better way, it was so gratifying." While both admit there are scenes that are hard to watch, they make it "for young women to not make the same mistakes that we did, that they feel empowered because of it. This is us talking to ourselves when we were 20, when we were making decisions from a place of lack of self-esteem and love for ourselves. We're saying something. It's fun, but you're getting something out of it at a deeper level, about self-esteem and about communities."

Anna and Elijah at the powwow (Photo credit: Mathieu Couture)
What they're saying has not gone unnoticed. The show has been nominated for several Canadian Screen Awards, including Best Comedy Series, Best Writing, Best Directing, Best Actress (2016) and Best Comedy Series, Best Writing, Best Directing (2017). As well, the team built a diverse Canadian audience through social media. Of course these style mavens are on Instagram (and Facebook, Twitter and YouTube). Their audience goes well beyond Indigenous viewers and women 18-35. The show has so much to say that they've produced several additional web series and a website full of extras, including an App and behind the scenes content. Currently writing Season 5, the team can't wait to shoot again this summer. Join the Mohawk Girls and "walk a mile in our moccasins" on APTN and online.