Murdoch Mysteries
A television dynasty traverses a decade of Canadian history.
The busy production executive works away, a stack of books sitting on the corner of her desk – will she ever have time to take a look? In comes a colleague, who happens to notice them: "Oh, these books are great!" A valued opinion from a trusted friend puts the books into focus. And that's how it happened in the case of Murdoch Mysteries. Executive Producer and Shaftesbury CEO Christina Jennings then reached out to author Maureen Jennings and the creation of the show began.
The show is now in production on its 10th season making it one of the longest running shows in Canadian TV history. Airing in 110 countries, it is one of the most popular shows in France, running a three-hour marathon every Sunday (France3). In England, it is also wildly popular (#1 on Alibi) and draws in fans with Downton Abbey guest stars. At home, 1.4 million viewers regularly tune in Mondays at 8pm on CBC, making it the top-rated Canadian scripted show and ranking in the overall Top 30 every week.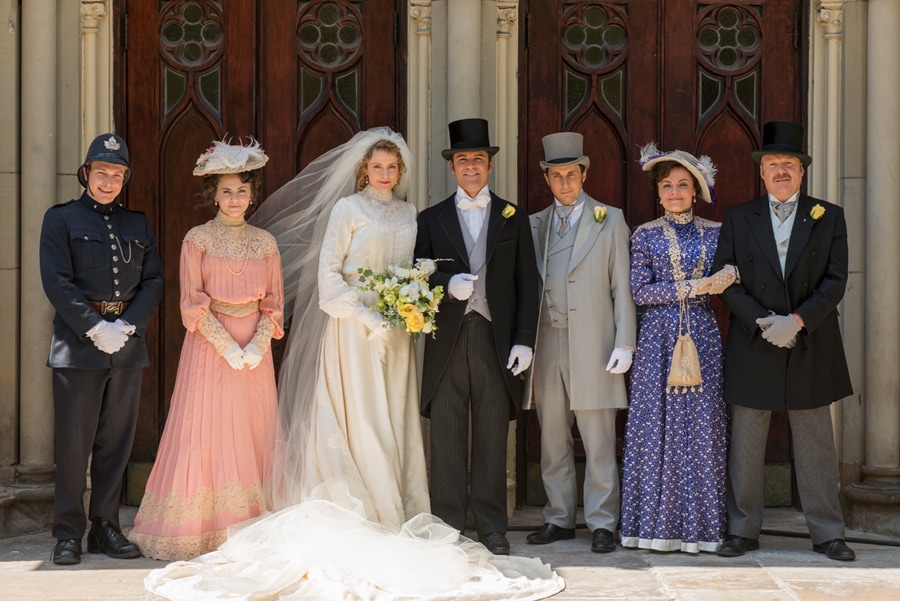 From L-R – Lachlan Murdoch (Constable Higgins), Georgina Reilly (Dr. Emily Grace), Hélène Joy (Dr. Julia Ogden), Yannick Bisson (Det. William Murdoch), Jonny Harris (Constable George Crabtree), Arwen Humphreys (Mrs. Brackenreid), Thomas Craig (Inspector Brackenreid)
The show has garnered many awards over the years. Most recently it was named Playback Magazine's TV Show of the Year and Yannick Bisson (William Murdoch) won Fan Favourite at the 2016 Canadian Screen Awards. Not only is it award-winning, Murdoch has created over 10,000 jobs with most of the crew onboard since the beginning.
When it comes to the cast of characters created for the show, both Christina and Producer Julie Lacey felt it was important to have a lead female character as strong as Murdoch. And so, while not in the original book series, Dr. Julia Ogden came to life on the small screen. The show boasts plenty of other female characters that are not only wives and girlfriends, such as Rebecca James, Dr. Emily Grace, and a new investigative reporter appearing this season. Gender parity is reflected behind the scenes as well, with many female writers, producers and directors making up the production team.

Doctors Grace (Georgina Reilly) and Ogden (Hélène Joy) take part in a protest for women's suffrage at Queen's Park, led by Margaret Haile (Nicole Underhay)
With strong women and men alike, Murdoch Appreciation Societies are plentiful. The audience continues to grow and is starting to attract a younger demographic. For their 100th episode screening fans packed the CBC atrium. Last summer a 2-day event in Toronto attracted over 2,500 people, many dressed in period costume! Others wore more modern Murdoch styles or rotated though the vast collection of Murdoch swag, which is continuously in demand.
"What have you, George?" – William Murdoch
One of the best events was The Infernal Device, a steampunk-inspired detective extravaganza set across Canada and London, England. Fans were invited to join in the sleuthing over six weeks of Season 9. They connected at live events and unlocked clues in online games to help solve the case. This award-winning transmedia project immersed us in the world of Murdoch like never before. You can still play a version online and word has it that there's more to come in Season 10!

2015 Fan Event – fans line up in the Murdoch Mysteries back lot for a photo with the cast
Perhaps the most memorable Murdoch moment for Christina was when she got a call from then Lieutenant Governor of Ontario David Onley, informing her that "the Prime Minister and his family love Murdoch and they want to come to set!" The present collided with the past as Sergeant Armstrong (played by former Prime Minister Stephen Harper) met Sir Wilfred Laurier. Other memorable episodes for cast and crew include the time they were up in Dawson City, Yukon exploring the Klondike and out in St. John's, Newfoundland for the cross-over episode with Republic of Doyle.
When it comes to what she's most proud of, Christina says that depicting Toronto and Canada's history is of utmost importance to her. The show portrays a Canadian sensibility to international audiences in over half the world with large fan bases in the US, Australia, China, and even Finland where it was the most watched foreign program in 2014.
Fundamentally, Murdoch is a show set in Toronto at the turn of the 20th century. Since many of Toronto's historical buildings have been demolished, the crew shoots in surrounding Southern Ontario areas such as Aurora, Cambridge, Dundas and Port Hope, to gather interesting exteriors shots. They also rely on visual effects, even animating a period postcard and using it as a green screen backdrop!

Christina Jennings, Executive Producer and Shaftebury Chairman & CEO, and Yannick Bisson
In order to keep the authenticity of Toronto circa 1900, the art department and continuity editors work tirelessly on detail. Adding fountain pens and removing modern streetlamps are a daily occurrence. The standing sets at the Toronto studio include the police station, morgue and the outdoor streetscape.
With the crew already working hard, Season 10 holds plenty of surprises and some great plot twists in the season premiere with debutantes in pursuit of Toronto's most eligible bachelor and the Great Fire throwing the city into chaos.
Join them and the fan community on Twitter, Facebook, Instagram and Pinterest and get the show's companion guide for even more details.
Previous seasons have aired on City, FX Canada, VisionTV, TVA and on Netflix and iTunes Canada. Season 10 premieres this fall on CBC.