Film and TV Production: Why It Doesn't End with the Distribution Deal
One way to think of the world of theatrical releases and TV schedules is as limited shelf space. There are only so many cinemas and so many slots on the TV schedule, so the odds of getting one are not that great. And now, with streaming being the preferred mode of viewing for many, the very notion of limited shelf space gets thrown aside, just as it has for retail since Amazon came along. So does the seemingly endless shelf space of streaming and video on demand mean that the distribution bottleneck has been solved? Not at all. But it does look markedly different.
Both producers and distributors can benefit from a new approach to the slate of work that comes after the picture is locked, specifically one that blends marketing and distribution activities together. This was the sentiment put forward by Jon Reiss at the Hot Docs Industry Conference held recently in Toronto. Reiss is a documentary filmmaker and author of Think Outside the Box Office and Selling Your Film Without Selling Your Soul. And while Reiss has spent the bulk of his career in the trenches of indie and DIY filmmaking, he assured the capacity crowd at the Hot Docs session that "the fun and miserable process of doing it on your own can also be the fun and miserable process of doing it with a distributor."
"50% is making your film. The other 50% is trying to connect with your audience"
Whether you go the route of doing things largely on your own or decide to share the fun and misery with a distribution partner, Reiss believes there are a handful of new skills and perspectives filmmakers can benefit from familiarizing themselves with, particularly when it comes to everything that happens once the production phases are complete. "50% is making your film. The other 50% is trying to connect with your audience," he reminded the producers in the room. Not only that, Reiss estimates there are about 50,000 feature films released each year, and 20,000 documentaries. That's a lot of supply, and even with all the new buyers at Amazon, Hulu, and Netflix, the competition for those slots is keen.
So what can filmmakers do to increase their chances of success? Understanding the new contours of the marketing and distribution landscape is critical. That means learning about the various elements now expected from a movie marketing campaign – from traditional press and promotion to digital and social media – and how these activities can be interwoven with distribution efforts using new tools and techniques.
About 10 years ago, Reiss came up with the concept of a PMD, a producer of marketing and distribution, to fill precisely this position. This is the person who comes in for that all-important second 50% of the work, the part dedicated to finding the audience. The PMD heads up a team that might include a publicist for online and offline media placement, a social and digital media specialist in charge of everything from SEO to paid campaigns on Facebook and Instagram, and an impact producer whose job is to initiate and manage the partnerships and community relationships that help the film achieve its social impact goals. In the words of one indie film blogger: "It's a gargantuan task, akin to herding cats, yelling into cyberspace, and looking for that needle in a haystack."
Learning to speak digital marketing
In addition, there's the importance of learning the language of social and digital media marketing, because filmmakers, especially independents, need to know how to communicate with PMDs, social media specialists, or digital agencies. There are some basic acronyms, like ROA (return on advertising) and KPIs (key performance indicators) and also concepts such as the sales funnel, which is a visualization of the customer journey from knowing that your product exists to taking an action such as making a purchase. Or at least that's where it used to end. In digital, the funnel doesn't end once the purchase is made, or in this case, the film is seen, but it can continue with a positive feedback loop of fandom and advocacy.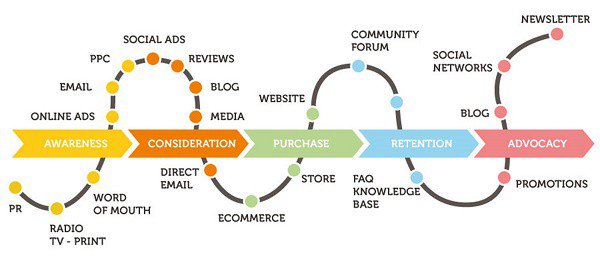 In other words, in the digital space marketing can also be distribution. Loyal fans can do more than just click the 'like' button: they can also serve as advocates and micro distribution nodes for elements of your campaign such as trailers, images, and articles.
Another unique property of digital and social media is the ability to micro-target, to go beyond mere demographic segments and reach people within specific communities and special interest groups and to do so on a city-by-city basis. That's what filmmaker Sanjay Rawal did with his 2018 documentary feature 3100: Run and Become. The film tells the story of the world's longest race, a 3,100-mile odyssey that takes runners from the deserts of Africa to the temples of Japan and through the Navajo lands of the American Southwest. Using the granular targeting abilities of social media ads, Rawal was able to speak directly to the communities most likely to have an interest in the film, such as people of the Navajo Nation in Arizona. The film, which began its life on Kickstarter, ended up having theatrical releases in 15 markets and enjoying some of the highest recent local box office in cities such as Flagstaff, Arizona.
Knowing the unique capabilities of the new tools available and understanding how audiences can be activated in ways previously not possible need to be in the producers' purview. As Reiss put it during his Hot Docs session: "Your distributor is your Plan A. You need to have your own Plan B, because the distributor doesn't always do what you think they'll do." And in reality, he pointed out, you often end up doing a blend of Plan A and Plan B. So it's really about how distribution and marketing strategies can work best hand in hand and, hopefully, up the fun quotient of the process while keeping the misery part at bay.
---