Esports: Canada, a Player in the Gaming Arena
Global revenues from the electronic sports (or esports) will reach billions of dollars in 2019, and analysts see no end to its growth. Although the phenomenon remains modest in Canada, catch-up signs are becoming more and more pressing. Here's an emerging sector that game publishers, brands, the media and even schools are watching with great interest.
Tournaments take place in stadiums filled to the rafters in Europe and Asia. Prize money triples each year for professional players. Fifty million competitive amateur teams around the world. The emergence of specialized trainers, massage therapists and even nutritionists dedicated to optimizing the performance of cyberathletes. For Michaël Daudignon, founder of the Motivment agency, who has worked for four years to develop electronic sports in Canada, all the signs are coming together: "The phenomenon can't be ignored anymore."
A growing market, a coveted audience
In strict terms, esports are nothing new. At the turn of the new millennium, masters of the real-time strategy game StarCraft were converging on South Korea from every corner of the globe, earning a comfortable living there while attracting crowds of autograph seekers. But the popularity of spectator esports now far surpasses anything we saw only a few years ago. In a speech delivered on May 30 as part of MTL connecte, Michaël Daudignon laid out the scope of an industry whose revenues should reach nearly $1.1 billion in 2019, according to the research firm Newzoo, up 26.7% compared to 2018, and approach the $1.8 billion mark in 2022. These revenues come from ticket sales to spectator esports enthusiasts, licence fees paid by broadcasters, and investments by video game publishers featured in tournaments, but mostly from brand sponsorships that recognized a good opportunity.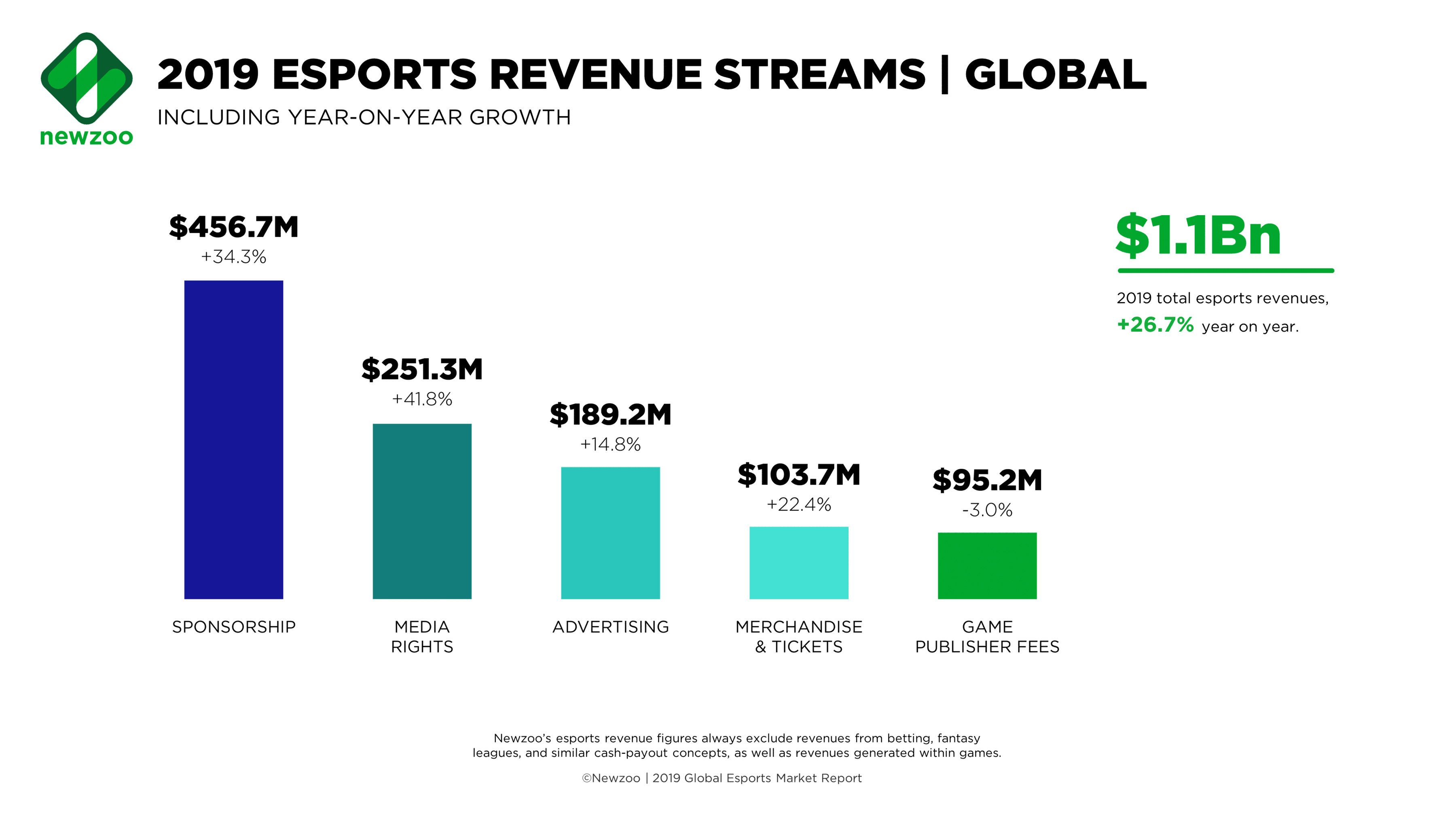 The demographic profile of esports fans is an appealing one. A business intelligence report by the firm GlobalWebIndex estimates that 70% of fans are aged 16 to 34, a notoriously difficult group for brands to reach, especially online, since they make extensive use of ad blockers. They also have more disposable income than the average population and are hard-working. GlobalWebIndex clocks the amount of time spent viewing professional events in 2018 at six billion hours.
The young age of esports fans clashes with that of the older audience for most traditional professional sports. The average age of Americans who watched televised sports ranges from 40 for Major League Soccer (MLS) to 64 for the Professional Golfers' Association of America (PGA) — and since 2006, this average age has steadily increased for all sports, except women's tennis. For brands that want to target a young discerning audience, esports is an attractive replacement strategy.
The ubiquitous presence of online distribution platforms, such as YouTube and Twitch, immunizes major esports events from the territorial restrictions that traditional media require to operate effectively. This is precisely what made it possible to attract a larger audience to the finals of the League of Legends World Championship than to Super Bowl 2018.
Esports in Canada: An emerging market
The popularity of esports has taken more time to develop in Canada than in Europe or Asia. According to statistics for the fourth quarter of 2018, compiled by GlobalWebIndex, 28% of Canadian youth aged 16 to 24 claimed to have watched an esports tournament in the month prior to their participation in the survey, placing Canada in 26th spot among the 41 countries studied, far behind China, which ranked first with 67% of young viewers. What's more, esports in Canada is having a harder time breaking through the barriers of a target audience that remains heavily gender-based. Proportionally, there are 5.2 times more young men interested in esports than the population in general. In China, the equivalent ratio is 1.67 times. The potential for growth among young men and the entire population is therefore significant, on condition that the structures are developed.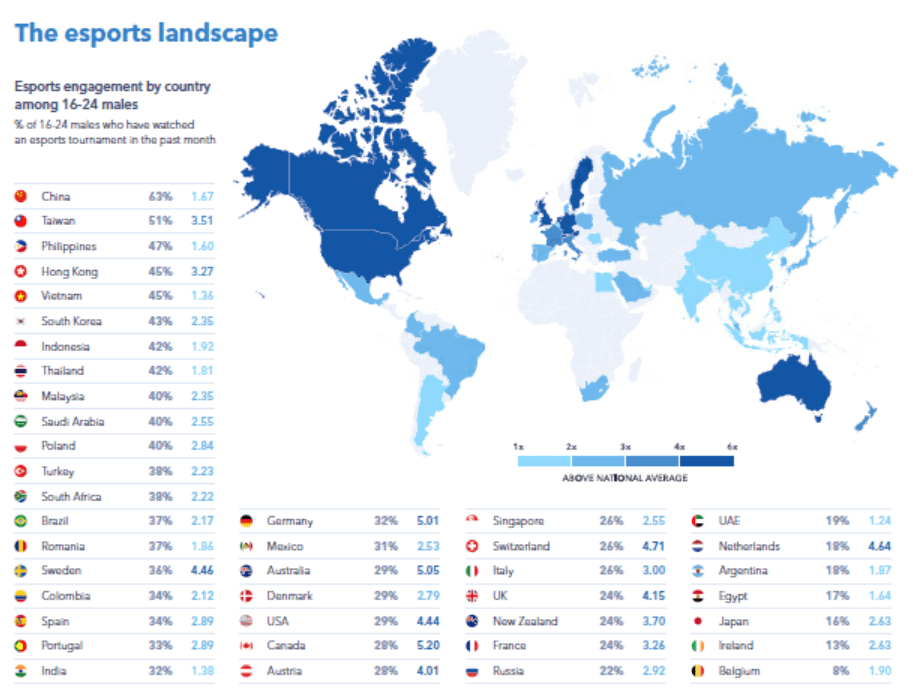 "In comparison with what exists elsewhere, the Canadian industry is still in its infancy. It's a little like the Wild West," says Carl-Edwin Michel, founder and CEO of Northern Arena, a Toronto-based company that works in all aspects of esports, from organizing events, producing media content and training to managing talent. Most major events, such as those organized by Northern Arena, have existed only for a few years, at best. One example is DreamHack's World Digital Festival, which features both professional competitions and interactive activities. This international event is scheduled to be held for the first time at the Vancouver Convention Centre and the second time at Montreal's Olympic Stadium (for three days and three nights).
A permanent infrastructure is currently being developed in Canada, several years behind what is found elsewhere. Meltdown, a chain of esports bars where fans can enjoy a meal and drink while watching esports competitions on giant screens, has only two establishments in the country, compared to 16 in France. The two bars (in Toronto and Montreal) have been in operation for only a short time; the bar in Quebec City closed its doors in 2018. For its part, Esports Central Arena, a gaming and training centre where fans can rub shoulders with the experts, opened its doors in Montreal in May.
Brand interest in the Canadian esports market, even in its early stage, is palpable. The attraction is natural in some cases. For example, according to Carl-Edwin Michel, sponsoring a major event gives game publishers an effective way to reach a target audience for a fraction of the cost of a TV ad campaign. International brands associated with the technology market or already sponsoring esports elsewhere in the world, such as Asus, Red Bull and Samsung, are also preferred partners. But they are not the only ones to recognize the value of an esports audience, as shown by the partnership between Northern Arena and the H&M clothing chain reached in 2018.
Canadian cyberathletes: The elite, the masses and training
Canada is well represented among the esports elite. Quebecer Stéphanie Harvey is a five-time world champion in the first-person shooter video games Counter-Strike and Counter-Strike: Global Offensive. Two of the 20 teams in the rich Overwatch League, where champions will go on to pocket $1.1 million in September, represent Canadian cities: the Toronto Defiant and the Vancouver Titans, while Montreal is home to the Toronto Defiant's farm team. The teams compete with rivals from China, South Korea, France, the United Kingdom and the United States. These elite cyberathletes, who can earn a good living based on their talent, are a very small minority. "There are probably fewer than 20 in Canada," says Carl-Edwin Michel.
The number of cyberathletes that come up through the amateur and semi-professional ranks is more difficult to estimate, but they probably number in the thousands. During the 2018–2019 season, for example, the Fédération québécoise de sports électroniques's Ligue Cyber Espoirs brought together teams from 20 Quebec high schools and cégeps. Four other high schools offered students the same esports-studies programs, involving 360 hours a year for five years, in collaboration with the Esports Academy of Canada, which hosts day camps to teach video game competition skills. Beyond training future elite players, the aim of these school-based initiatives is to reduce the student dropout rate. At this point, it is too early to assess their effectiveness.
Esports, sports and the media
Another sign of the acceptance of esports in common culture is the interest shown by the sports media. In English Canada, TSN broadcasts the Overwatch League matches on its website and, occasionally, on its television stations. RDS, TSN's French-language sister station, devotes an entire section of its website to video games and electronic sports. And, of course, specialized media such as HUD and SQUAD shows produced by Northern Arena and broadcast on YouTube or Twitch, contribute to the community's vitality.
Even traditional sports are beginning to follow suit to attract and keep a loyal fan base that might otherwise slip away. Following the example of major European clubs, such as Paris Saint-Germain, Major League Soccer teams integrated cyberathletes into their structures in 2018. LyesMTL represents the Montreal Impact in the eMLS Cup competitions.
Outlook
The popularity of esports has already opened the door to the 2022 Asia Games, at which video game competitors will be awarded official medals for the very first time. The addition of esports as a demonstration event at the 2024 Olympic Games in Paris is even being considered.
But questions persist about the long-term viability of the current esports ecosystem. The proof lies in commercial products for which publishers hold intellectual property rights and whose regulations can change without notice in the wake of a software update. In addition, games that hold their own on the market for extended periods of time, such as the Counter-Strike and StarCraft series, are few and far between. Among the most popular esports today, Fortnite has only been around since 2017, and Overwatch since 2016. What will the cyberathletes do when these games enter a phase of decline? In its second season, the Overwatch League is attracting fewer spectators per match than in its first year. Carl-Edwin Michel is confident in the ability of players to recycle their talent into the same type of new games, but interface subtleties may disrupt some careers.
The most serious impediment to the expansion of esports as a spectator sport for the general public is conceptual. As Michaël Daudignon points out, in spite of interface innovations made to video games in recent years, "the massive esports game that everyone can watch does not exist yet." But you can bet that Quebec video game development studios, like their competitors, will be rising to the challenge.
---