The Renaissance of Children's Live Action Programming
Kids' live action may not have enjoyed the explosive success of adult scripted series in recent years. But all that is changing now...
By Julian Newby (MIP Trends)
The pipeline of shows coming out of vertically integrated studios such as Nickelodeon and Disney attest to the growing international appeal of children's live action programming.
"One of the great strengths of live action is that you can get it to market faster than animation, making it more reflective of trends," says Nina Hahn, Senior Vice President, Production & Development at Nickelodeon International.
Hahn gives an example of why research matters: "A few years ago we were getting feedback that kids found their parents embarrassing, so we emphasised a 'no parents allowed' philosophy in our shows. But this sentiment has shifted and, now, kids see family as being their 'tribe'. 'Parents as friends' is something we've consciously been able to feed into shows."
Nickelodeon also makes a point of staying across trends in digital media. Social-media star JoJo Siwa, for example, has appeared for Nick as a show host, in a TV movie and as a star of her own reality series.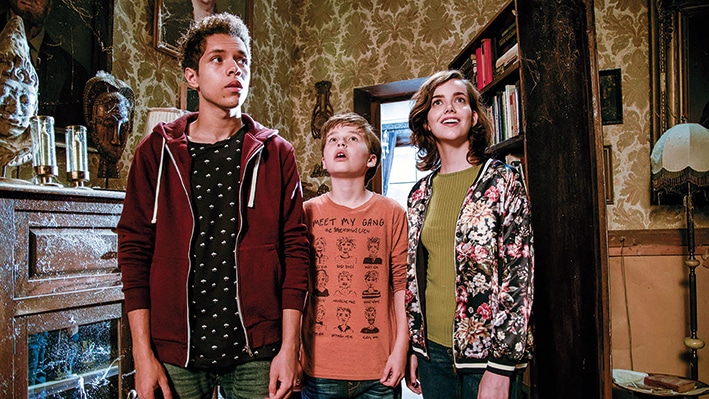 Children's Live Action Programming in Canada
While Nickelodeon and Disney are major players in the kids live action genre, they are not the only gigs in town.
"We have our own channels in Canada and there are other players like the BBC, ZDF and ABC, the Australian kids' arena. With Amazon and Netflix also active in this area, it's possible to develop an international co-production or look for a big pre-sale to support a show," says Josh Scherba, Executive Vice President, Content and Distribution at DHX Media.
A current example, Scherba says, is Creeped Out, a spooky anthology series co-produced by CBBC and DHX-owned Family Channel in Canada. DHX has the distribution rights to the show, which Scherba calls "a kind of Black Mirror for kids". He adds: "We're aiming to place it with a big global platform and create a buzz around the launch."
Scherba believes Creeped Out's anthology format is a good way of getting around co-production's usual restrictions: "We're not having to shoehorn elements into the show. Because each episode is an individual story, it's easier for us to produce in a way that utilizes the skill sets available to us in both Canada and the UK."
DHX's extensive live action catalogue includes Degrassi, Make It Pop, Hank Zipzer and a new show called Bajillionaires "about a group of young kids trying to invent something," explains Scherba. "It's like Silicon Valley for kids. It's all about their resilience as they attempt to discover the next big thing that will make them rich."
The rise of children's fantasy and music live-action shows
Fantasy series tend to travel well, says Steven Andrew, UK creative director at Zodiak Kids Studio. "Witches, wizards, aliens, ghosts and the like are a neutral landscape," Andrew adds. "They help get around the little differences that can be a stumbling block."
Andrew, a kids' industry veteran, recalls the success of Wolfblood from his time at the BBC. He also cites the mermaid-themed projects that ZDF Enterprises (ZDFE) distributes on behalf of Australia's Jonathan M. Shiff Productions. H2O Just Add Water has been sold to 120 countries, while its sequel, Mako Mermaids, has been picked up by Netflix for the global market.
Other fantasy-driven successes include The Worst Witch, a BBC, ZDF and Netflix co-production based on the books by Jill Murphy. ZDFE is also back in the international market with Jonathan M. Shiff's latest children's project, The Bureau of Magical Things.
Filmed in Australia, the show follows the adventures of a teenage girl who acquires magical powers when caught in a clash between an elf and a fairy.
Hahn points out that Nickelodeon is also active in the fantasy/magic space. In May, the company unveiled plans for a new 20-part show called Knight Squad, which is set at a magical school for young knights.
Zodiak's Andrew says that music/performing arts-based shows form another genre that travels well. His company has made The Lodge for Disney, while DHX's contribution to the genre includes Backstage, licensed to Disney and Netflix.
"Well-made performance shows have an aspirational feel that audiences like," Andrew says. "But they are also very visual with lots of action. That's something they share with fantasy series and is another reason they travel well. It's important not to be too 'verbal' if you want a show to travel. And you probably need the bold, unambiguous characterization that has always helped telenovelas to stand out."
Co-productions: a winning model for children's live action programming
Another model that seems to work at international level is the co-pro, in which the story's lead character visits another country.
UK producer Lime Pictures, for example, has enjoyed success with Free Rein, which aired on Netflix. The storyline focuses on a 15-year-old American girl who visits a horse stable in the UK.
Meanwhile, Zodiak's slate includes Joe All Alone — about a 13-year-old boy whose uneasy life starts getting better after his mother and her objectionable boyfriend leave him behind while they holiday in Spain — from Joanna Nadin's book, and CBS' Secret Life of Boys, in which an Australian girl comes to stay with her four British cousins.
An added point of interest about Secret Life of Boys, Andrew says, is that it offers interactive elements that deepen the level of engagement via character insights, story secrets and additional jokes.
Live-action shows for younger children
While the majority of live-action shows for kids are aimed at the 8-to-12 (tween) market, a few companies are having success with live action for even younger kids. Darrall Macqueen's co-founder Billy Macqueen says his company's hit series Topsy and Tim is one of a handful of shows that has given broadcasters the confidence to experiment with preschool live action.
"Topsy and Tim originated in the UK but has since done well in France and the US, where it airs on Universal Kids," Macqueen says. "I think its ability to travel is partly down to the quality of the production and partly down to its emphasis on a universal theme, namely first experiences. Broadcasters also like the fact it has a high level of repeatability, which you can also see through the show's views on BBC iPlayer."
Darrall Macqueen is now working on a new show for the same age group called Waffle the Wonder Dog, which Ma queen believes can emulate Topsy and Tim's international success: "Waffle is for the BBC, with DHX Media distributing. It has a talking dog, which we think will appeal to kids internationally. The fact that the initial order is 30 x 11-min. episodes is also appealing to broadcasters."
One age group that does not see a lot of live action is the one formed by 6- to 9-year-olds. However, this is the segment that Brain Power Studio's founder and president Beth Stevenson is exploring with The Ponysitters Club.
Having produced or executive produced 35 children's series, Stevenson knows her market well and believes the show's emphasis on empathy, inclusion and compassion will cross borders.
"The thing that's missing from the market is classic family series like The Waltons and Little House on the Prairie — heart-warming shows where the kids have key roles," she says. "We wanted to address that with The Ponysitters Club. The problem with a lot of today's light-hearted comedy is that it doesn't really allow you to address the issues facing kids in a satisfactory way."
The first broadcaster to jump on board The Ponysitters Club, which is being produced in Canada, was Discovery Latin America: "I think animal care is an area that appeals to audiences around the world," Stevenson adds. "The show is based around some kids working on a horse-rescue ranch. They get to ride the horses as well as take care of them. That gives them a sense of responsibility and empowerment, which kids will relate to."
---
This article is published here as part of an editorial partnership between CMF Trends and MIP Blog. It was originally published in the MIPTV 2018 Preview magazine.
---