In India, Blockchain Is a New Gateway to Independent Films
This past year saw the introduction of a new VOD model. Called BVOD, this model is basically a cross between traditional video on demand and blockchain technology. The result is a redefinition of the over-the-top television model.
Platforms such as Netflix and Amazon Prime Video have always enjoyed exclusive access to their own transactional data, from subscriptions to content to viewing habits. That is, until about a month ago, when MyNK, a VOD platform that uses blockchain technology, was launched in India.
This new model is a first in the second most populated country in the world. Its main objective: to allow Indian audiences greater access to independent films.
What is blockchain again?
In simple terms, blockchain is an easy method for storing and transmitting data through a decentralized network. This network ensures the validity of the transactions without having to go through one, single entity. Common principles for participants, as well as a general acceptance of the way the technology is managed, are two key elements that define blockchain.
For more information on blockchain technology and its potential impacts on our industry, we invite you to read our study titled Blockchain Technology and the Canadian Media Industry, published recently in collaboration with Telefilm Canada. You can also listen to our Now & Next podcast or read our various articles.
What is BVOD?
BVOD is a new legal term used for content distribution. One key difference with a subscription model is that each party is able to obtain transactional data directly, without having to go through an intermediary who might otherwise have the right to manipulate it. The goal of BVOD is to decompartmentalize data flow and to establish a direct link between creators and consumers by removing the middleman, who has control over content and everything that relates to it.
In MyNK's case, allowing Indian audiences access to quality independent films is what motivated the platform's creators, Nitin Narkhede and Deepak Jayaram, to go the BVOD way.
Upon its launch, the platform will feature over 200 movies in 23 languages and produced in some 34 countries, including Canada (through the NFB). What makes MyNK particularly attractive is the fact that it allows access to films that, in most cases, have never been shown in India. That, plus the fact that this new technology is being unveiled in that particular corner of the world.
Getting Films in India
One of the platform's purposes is to help overcome film distribution challenges in India. In an interview earlier this year, Mr. Narkhede used as an example Village Rockstars by Rima Das, which was India's selection for the Best Foreign Picture category at the Oscars in 2018. Despite having been shown in over 70 film festivals and winning more than 40 local and international awards, the movie was only shown in a very limited number of theatres in India.
Mr. Narkhede says that many other Indian films have had successful runs abroad, while local audiences can barely have access to them in their own country. He points out that in India, there are only 10 screens per million inhabitants (by comparison, in 2017, Quebec had 8.6 screens per 100,000 inhabitants). In his view, limiting accessibility to a movie opens the doors to piracy.
That's the sort of problem MyNK hopes to solve. The platform will take the form of a mobile app, which is currently in its beta phase. The targeted audience watches a lot of video content on its smartphone – something that is becoming more and more popular in India. In fact, for some 88% of the country's population, their smartphone is their main viewing platform.
VOD, a fiercly competitive business
Many major players are trying to get a piece of the global VOD pie. Interestingly, American giants such as Netflix have yet to rule in India. In fact, local platforms like Hotstar (now owned by Disney) and JioTV lead the market in terms of downloads, while Amazon Prime Video remains a distant third.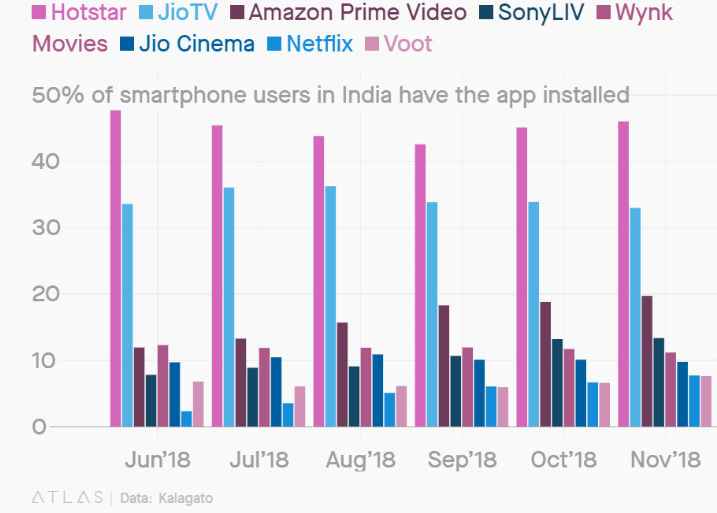 With a population of more than 1.3 billion people, India is a very attractive market for competitors, despite its particular challenges – some of which local services have managed to use to their advantage: linguistic diversity (450 languages, 23 of them official), distribution in remote areas and subscription costs, among others.
Take Netflix, for example. Despite making its content available in both English and Hindi, the American VOD giant can barely make a dent in India. One main reason: productions featured on local leader Hotstar are available in Malayalam, Tamil, Telugu and Kannada – as well as English and Hindi.
Also, subscription rates from foreign companies are considerably higher than those of local platforms. While Netflix will set subscribers back 500 rupees a month (about $8), Hotstar bills its clients 199 rupees (about $3.25). On the other hand, foreign services provide access to international content that would otherwise not be available locally.
Where does MyNK fit in?
MyNK's intent is to stand out from the competition by offering a different product: a decentralized, peer-to-peer network that will allow content producers to connect directly with consumers. Such a model redefines the role of the audience, which will now have the greatest impact in terms of the relationship between platform and content.
Indeed, with MyNK, content viewers will be able to accumulate credits with every review or recommendation they provide. They will even have the opportunity to micro-distribute films among their friends – thus becoming a content curator, for even more credits. Every transaction will be visible at all times on an interface that distributors and rights holders will be given access to, in order to obtain viewing information for their own content.
That particular feature turned out to be quite attractive for the NFB, which has partnered with MyNK for content distribution along with all3media (UK), Kew Films (UK), Wide Management (France), Off the Fence (Netherlands) and many others. Nathalie Bourdon, Director, Distribution and Market Development at the NFB, thought the platform was quite innovative. "The business model is very interesting, she says. You see communities built around viewing experiences. Plus, people get rewarded for submitting recommendations. It's a brilliant concept when you have many subscribers."
A first for the NFB
This marks the first time the NFB has taken part in a project involving blockchain technology. Mrs. Bourdon was curious about this growing phenomenon, and she felt the time had come to give it a try. However, in this particular case, financial results aren't her main priority. Instead, her intention is to better understand blockchain technology and to validate its benefits in terms of transparency and efficiency.
At first, the NFB will only feature about a dozen titles on MyNK. Mrs. Bourdon selected films that are both diverse and accessible, such as Gulistan, Land of Roses, Limit is the Sky, As the Crow Flies, Birth of a Family and Ladies and Gentlemen... Mr. Leonard Cohen. Many of them are award-winning feature films that enjoyed a successful run in such prestigious film festivals as Tribeca, Cannes, Toronto, Sundance and Berlin.
Should the experience prove conclusive, not only might the NFB provide MyNK with more content, but it might even consider partnering with other VOD platforms using blockchain technology. "I handle both distribution and development – and I take that last word very seriously," says Mrs. Bourdon.
---