Internet: Four Global Trends to Watch Out For
The annual Internet Trends report, a "technology bible" prepared by American venture capitalist Mary Meeker and highly sought-after by investors, researchers and journalists alike, was recently published. Here are four key trends we have singled out from this 334-page document.
Meeker, a former associate of venture capital firm Keiner Perkins and founder of Bond Capital, has been publishing the report – which has gained significant credibility over the years – since 1995. Even though the document mostly features data from American sources, and while Meeker does have a vested financial interest in producing it, it still provides a solid portrait of major trends and the information it contains is generally quite reliable.
1. The web's penetration rate is nearing its peak
Over half of the world's population (3.8 billion people) is connected to the internet. While that number keeps increasing (+6%), the growth rate is lower than what had been witnessed the previous year (2017). Not surprisingly, China has the biggest share of internet users (21%), followed by India (12%) and the US (8%).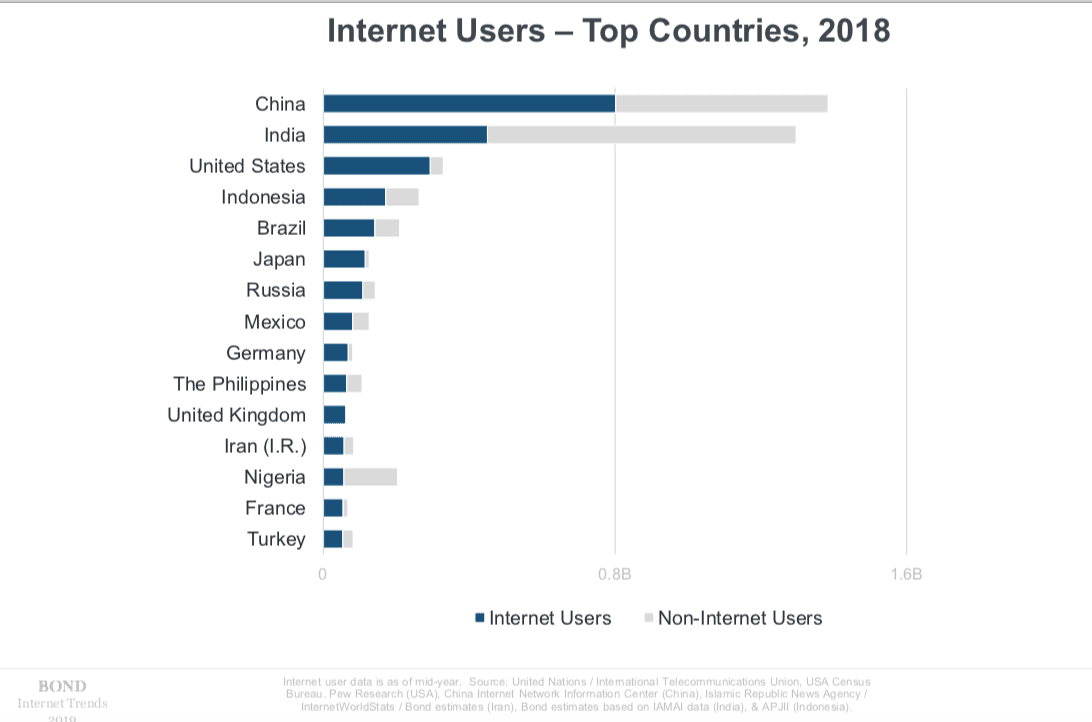 As Meeker mentioned last year, when a market becomes a mass market, growth is harder to come by. Case in point: sales of new smartphones have dropped for the second year in a row (-4% according to Morgan Stanley). The problem is, over the last decade, these devices were a major catalyst in the growth of the web's penetration rate.
Finally, Africa, the Middle East and the Asia-Pacific region are the last remaining markets in the world where internet use is below the 50% mark.
2. Practically always online, for better or worse
While the internet's penetration rate is peaking, American adults spend an ever-increasing amount of time online. The number of hours has reached 6.3 on a daily basis, mainly due to mobile devices – which have now surpassed computers and laptops in terms of daily use (3.6 vs. 2 hours).
A 2018 survey published by Pew Research also reveals that a quarter of all American adults are now "constantly online" – especially those in the 18-29 (39%) and 30-49 (36%) age groups.
Time spent on mobile devices has also surpassed time spent watching TV. Over the last decade, daily TV viewing has dropped from 266 to 216 minutes, while mobile use has skyrocketed from 20 to 226 minutes. Furthermore, a survey published by eMarketer in October 2018 indicated that, over a period of five years, video viewing online has more than doubled.
Being connected online is no longer limited to staring at a computer or smartphone screen. Indeed, the number of people in the US who listen to podcasts has nearly doubled over the past four years, according to the 2019 edition of Edison Research's The Infinite Dial report. The same goes for portable devices (eMarketer, November 2018).
Internet users do feel they are spending too much time online. As a result, a greater number of them are trying to cut down (63% vs. 47% the previous year, according to a November 2018 survey of American mobile device users conducted by Deloitte Mobile Consumer).
Major technology players have been paying close attention to this change in attitude. In 2018, some of them even suggested implementing new features allowing them to follow and control time spent on various platforms.
Data from Hootsuite's January 2019 report and WeAreSocial Digital's 2019 study both reveal that time spent on social media is also dwindling, with a growth rate of merely 1% compared to 6% during the first quarter of 2018.
3. The cost of acquiring new customers might not be viable in the long term
In 2018, internet advertising spend increased significantly (+22%).
However, major American platforms such as Google, Facebook, Twitter, Amazon, Snapchat and Pinterest experienced a drop in ad revenues in 2018, compared to the previous year.
While Google and Facebook maintain their comfortable lead, companies such as Amazon, Twitter, Pinterest and Snapchat are grabbing an ever-growing share of the ad revenue pie.
Despite numerous advertising platforms available on the market and better customer targeting capabilities made possible by vast amounts of data, the cost to convert internet users into customers is increasing in such competitive sectors as finance – so much so that they might no longer be viable in the long term, according to Mary Meeker.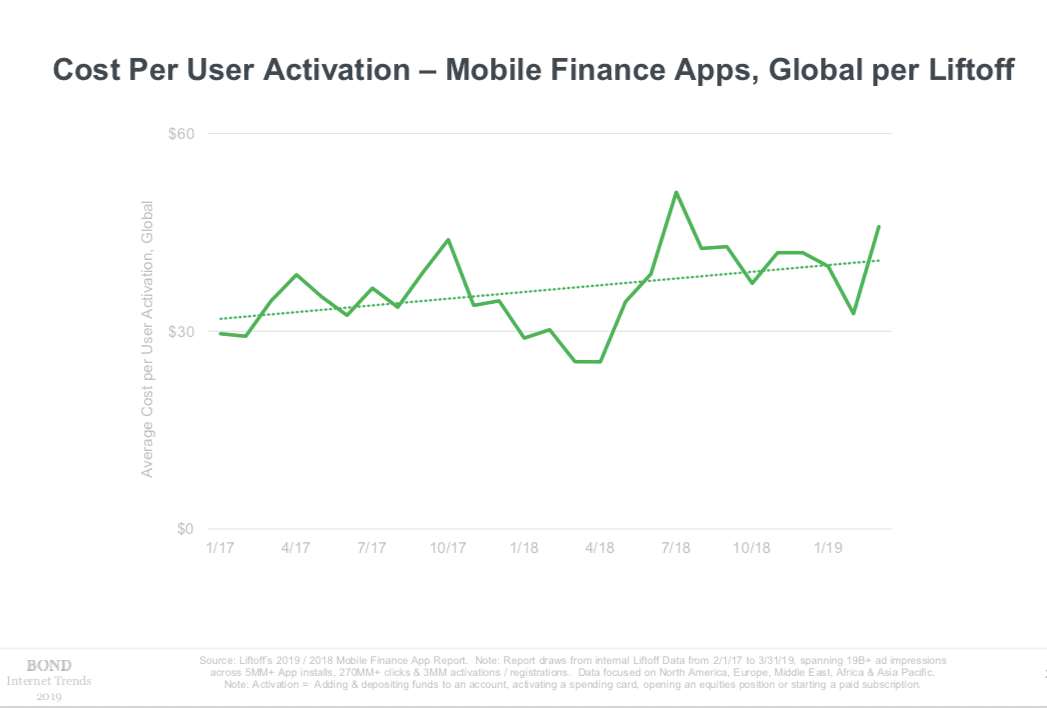 4. The video game industry's "freemium" business model appeals to both companies and consumers
Some companies have found a solution to high customer acquisition costs, inspired by the video game sector. While at first, games such as Runescape were available for free, a paid subscription was later offered, adding value for the players while allowing for various improvements to the game itself. Such a "freemium" model then extended to other types of businesses.
For example, about 60% of Spotify's paid users (to Spotify Premium) initially took advantage of the platform's free offer. Thus, the ad-supported free service became a way to offset the cost to acquire new customers, according to Spotify's CFO Barry McCarthy, speaking at the company's Investor Day in March 2018.
In fact, some 42% of adults responding to a survey conducted in various countries by 2BrightCove and YouGov said that free trials were the main factor in their decision to try out a new streaming service.
For more information, you can read the entire report and compare its findings to our Trends Report 2019.
---