New Murdoch Mysteries spinoff is a tween-targeted time-travel series told in 11-minute episodes
Nearly two decades after its inception, the Murdoch Mysteries franchise continues to deliver twists, turns and spinoffs we didn't see coming.
The latest offshoot of the series about Edwardian-era detective William Murdoch (Yannick Bisson) is Macy Murdoch, a tween-targeted time-travel story told in an emerging format aimed at busy kids — 11-minute episodes.
The new series stars Shailyn Pierre-Dixon — who won a Canadian Screen Award for her portrayal of young slave Aminata in The Book of Negroes — as Macy, William Murdoch's great-great-great-granddaughter. A 16-year-old with a passion for forensics, Macy discovers that someone has used time travel to frame her great-great-great-grandfather for murder in 1910 Toronto.
Fortunately, she finds the villain's time machine and along with her friends Zane (Beau Han Bridge) and Billie (Raffa Virago) travels back more than a century to find the real culprit and free her famous ancestor.
Produced by Shaftesbury with funding from the CBC, Ontario Creates, Shaw Rocket Fund and the Bell Fund, the series is available on CBC Gem from March 2023.
Expanding the Murdoch universe
Macy Murdoch is certainly not the first offshoot of the Murdoch brand.
Debuting as three made-for-TV movies starring Peter Outerbridge as the titular detective in 2004, the franchise transformed into a weekly series with Bisson in 2008.
Now syndicated around the world the property has spawned brand extensions both expected, including several web series and stand-alone Christmas specials, and unexpected.
"There's an escape room, there's a podcast that we did, we have a Murdoch symphony... we also have an AR [augmented reality] game," rattles off Jennifer McCann, Executive Producer and VP of Kids & Family for Shaftesbury.
McCann says that during the first year of the pandemic the folks at Shaftesbury started asking themselves what a fresh spin on the Murdoch universe would look like.
"We explored a number of different possibilities internally and the one that resonated the most with us all was this idea of descendants and lineage and identity, this idea of family," she says.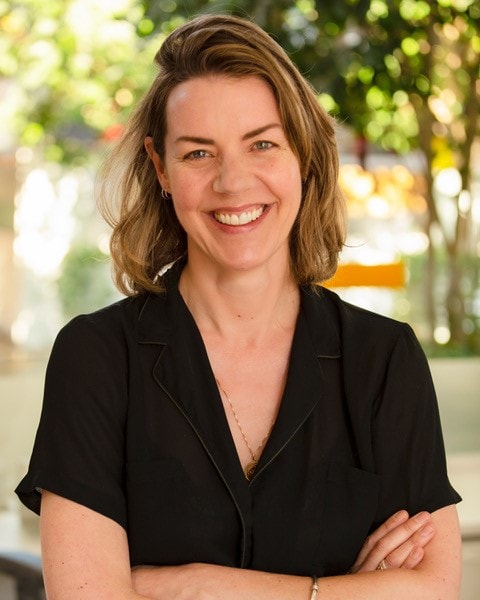 Shifting to a tween audience and 11-minute format
Murdoch Mysteries has always had a multigenerational following as kids watched alongside their parents and grandparents, so its world isn't completely foreign to young viewers.
And yet Showrunner Jennifer Kassabian says the new series is quite different in tone.
"We're trying to go for more fun," she says. "The characters have senses of humour, there's a sense of zany banter and quick-witted one-liners so the tone is very modern and current with what you would experience with everyday 16-year-olds now."
As for the shorter format McCann says CBC Gem first experimented with 11-minute episodes for the tween show Detention Adventure. Several more shows using the format, including Game Savers and the Australian animated series The Strange Chores, have since been added to the platform.
So how does an 11-minute episode change the game for writers?
"Essentially writing an 11-minute is the same as writing a one-hour," says Robina Lord-Stafford, Macy Murdoch's Co-Executive Producer and a writer on the series. "You've got your beginning, middle, end. You've got all your scenes. You've got to make sure that there's conflict and tension and all the juicy things that you have in a one-hour still in this 11 minutes. We just have to be maybe a little more economic with our words."
Lord-Stafford had a head start getting into the mindset of a female-centred detective period piece having previously penned episodes of Shaftesbury's Frankie Drake Mysteries about a female detective working in 1920s Toronto.
This time the challenge was putting modern-day kids into a situation where they don't have access to the technology they've known since birth.
"They can't use their cell phones," she says. "They can't pull up Google Maps or anything like that. So those were fun things that they had to then figure out and be resourceful and put on their detective hats and figure things out that way."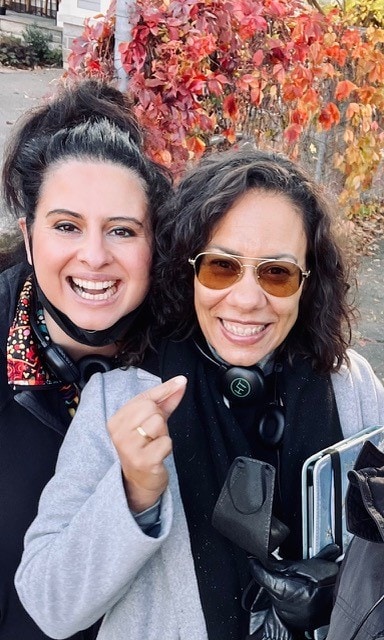 Casting Shailyn Pierre-Dixon
The team knew they wanted a Black or biracial lead from the outset.
"It felt like a natural fit and it was important for us," says McCann.
Lord-Stafford, who comes from a Caribbean background, says she wishes she'd had such a show with a Black female lead when she was a kid.
"I never saw things like that growing up and that representation really does matter," she says. "It's showing this really smart young Black woman who's a scientist, who's got this great detective brain, who's got the sweetest, kindest heart."
Shaftesbury had already worked with Pierre-Dixon on the prime-time series Departure so she was a strong contender from the start.
"I think Shailyn really embodied Macy for us," says Lord-Stafford. "Shailyn herself is such a lovely human being, she really imbued that into the character."
The producers worked with the prime-time team to ensure the journey from William's generation to Macy's made sense. "We actually built out a family tree to say, well, how would that logically have worked? We know that Murdoch had a child," says McCann.
They didn't fill in all the blanks since there's a lot we don't know about the intervening years, details that may be fleshed out in subsequent seasons if Macy Murdoch is renewed.
Ties to the prime-time show
While the tone may be modern, there is much Macy Murdoch shares with its prime-time relative.
Director Laurie Lynd came over from the main show as did actors Shanice Banton who plays Chief Coroner Violet Hart and Lachlan Murdoch who plays Constable Henry Higgins-Newsome.
Hart helps the kids analyze evidence pertaining to the murder victim's body, while Higgins-Newsome is cajoled into helping the young detectives with some of their investigative work.
Bisson is among the Murdoch Mysteries actors contributing to the series. Kassabian says William Murdoch's spirit looms large in the script.
"He is with Macy during her most detective-deducing moments," she says. "We found a fun way to work him in so although you don't see William Murdoch on screen you do feel him in the show."
But perhaps the most important Murdoch Mysteries character making an appearance in Macy Murdoch isn't a person at all.
"We had this tremendous opportunity to be able to tap into the existing Murdoch sets, which are stunning," says McCann. "Obviously I'd seen them before, but it was just such a joy to be able to use them."
"We had a riot," adds Kassabian. "Just the slight panic of don't touch or break anything kind of made us all feel like five-year-olds in a china shop. But we didn't break anything, so that can go on record."
---