Shoresy Creatives on Expanding the Letterkenny Universe and Creating Meaningful Indigenous Representation
In nine short years, Letterkenny has swelled from a small YouTube creation about two guys from a small Ontario town to a homegrown success story. The first-ever Crave original series now boasts 10 seasons and counting, a handful of specials, an international partner in Hulu, a dozen Canadian Screen Awards, a live tour, and an array of merchandise—including a Puppers beer line.
With the May debut of Shoresy, the first official spinoff, creator Jared Keeso and director/executive producer Jacob Tierney are expanding upon that world again. The six-part series revolves around the fan favourite, chirpy character of the same name (played by Keeso), who vows to never lose another hockey game in his Sudbury senior AAA hockey league.
Expanding the Brand
It was a story Keeso—who surgically removed his tooth for the role—very much wanted to tell. It's also a big swing for a franchise that's built a brand on standalone episodes targeted at the 18-34 male demo.
"This wouldn't have been what I thought would have been the obvious choice," Tierney says. He adds Keeso had a clear vision and after years of working together, he trusted him. The result is a more story-driven series than Letterkenny, one that isn't just about character.
"Shoresy is more of an urban show and more city-oriented than we've ever done before. We spent so many years avoiding showing Sudbury and now it takes place here. We're really doing the North for the first time."
"Our first order of business is to build the love for our brands. In the case of Letterkenny, we have spent the better part of seven years cultivating our fanbase for our beloved characters," adds Mark Montefiore, President & Executive Producer at New Metric Media. "This has created an incredible opportunity to organically expand the brand with Shoresy."
Like Letterkenny, Shoresy also streams on Hulu in the States, where it has amassed a strong critical and fan following. After launching the live tour, Tierney saw firsthand how rabid that fanbase can be. "It's intense," he admits. "It's pretty extraordinary. The first few times, I thought, clearly there's a market for this. These people were excited."
Although Tierney believes most of the franchise's success can be summed up as "dumb luck," and an unidentified "magic," he does believe part of the appeal is the show's specificity.
"There's an authenticity to it that resonates with people who grew up in a small town," he says. "The more specific you get, the more universal you get. There's no big victory in being as generic as possible. If you tell a story that you know well—Jared grew up in a town like Letterkenny, he knows it in and out. That's his story to tell and that resonated."
Meaningful Representation
From the beginning, the Letterkenny crew wrote characters based on the real-life Indigenous population in Northwest Ontario, and they encouraged a collaborative environment between the cast and crew to get it right. Shoresy is another opportunity to increase that representation on and off-screen. Many of the characters on the fictional Bulldogs team Shoresy is a part of are played by Indigenous actors, including former OHL star Brandon Nolan and his brother, three-time Stanley Cup champion Jordan Nolan.
Behind-the-scenes, Tierney reveals that Shoresy boasts many of the same crew members from the mothership series, including "many Indigenous persons, because that's the reality of being up North." Kahnawake-born actress Kaniehtiio Horn (who plays Tanis in Letterkenny) is also a consulting producer.
"What I love about Shoresy is that Indigenous people just exist in the world. It's not about whether they're from a rez or a city. There's no political statement they're making—even Tanis on Letterkenny can be a little bit political," says Horn. "In this it's hockey in Canada. Indigenous people are a part of it and they're there. In that way it's revolutionary. Canada tends to make shows about Indigenous issues or we don't exist at all. But there's rich stories in our backyard."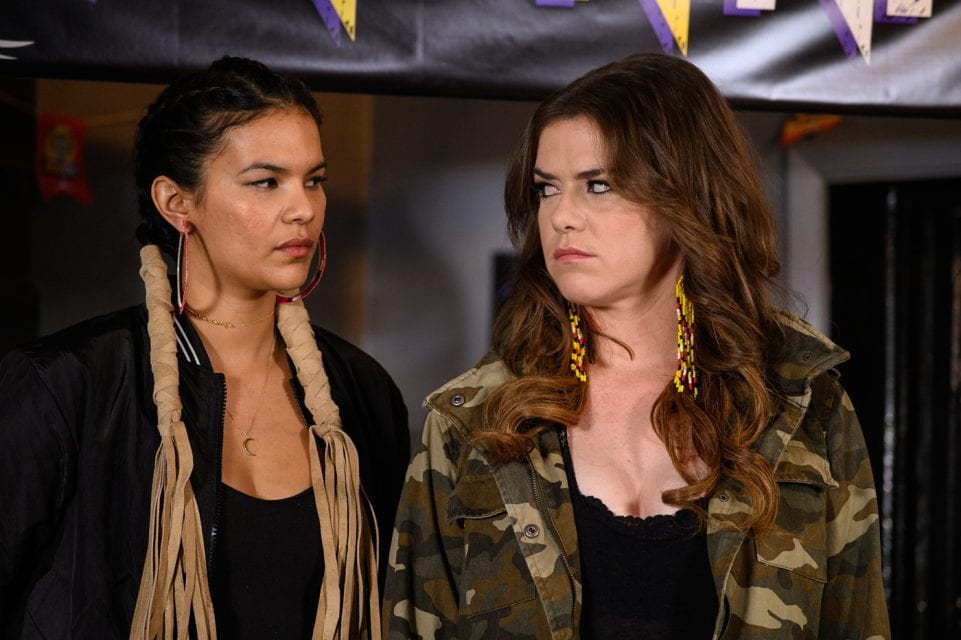 "In telling this story about hockey—especially in Northern Ontario—if you're not including Indigenous people you are omitting them because that's a huge part of that culture," adds Tierney. "We wanted to beef up this world with the real people who would really be there. That's why there's French people, there's Indigenous people, it's hockey."
He maintains it's about representing actual experience versus having an agenda about representation. That's why when Cree actor Harlan Blayne Kytwayhat, who plays Shoresy's best friend Sanguinet, asked if they would switch the character from being Ojibwe to Cree so he could speak slang in his native tongue, they made the switch. It's also why they include jewelry from Indigenous artists, sourced maple syrup from a company on Horn's rez, and include specific jokes and sayings not often heard outside of these communities.
"Your average Canadian might not notice it, but for Indigenous people we rep all the time," Horn says. "To see that reflected back, those seemingly small things are actually really big in terms of representation and in making it authentic and real. And it means a lot to Indigenous people."
---