The new content acquisition paradigm
The audiovisual market has always had an international dimension. A case in point: MIPTV (Marché international des programmes de télévision) is a global content market that dates all the way back to 1964. But the arrival of the Internet has given companies, deals, catalogues and distribution models a broader global reach, at an ever-increasing pace.
The challenges are many: climbing production costs and capital expenditures, constant pressure from OTT services and the arrival of IT industry giants on the scene, to name but a few. The various elements are converging to push content producers and publishers toward globalization.
This movement toward a global audiovisual market is underpinned by several factors: a certain level of saturation in the Western media (the number of U.S.-produced scripted dramas has doubled in the past five years), growing momentum in emerging markets (as seen in such developments as the competition for the Chinese market by HBO and Netflix) and the fact that it is easier and easier to distribute content on a worldwide scale. The environment is indisputably conducive to greater uniformity in content.
A market with shifting boundaries
An IDATE report entitled Audiovisual Industry Going Global confirms that the global market is dominated by North American interests. This is an accurate assessment of the state of affairs on this continent, which naturally includes Can26ada.
*** For good overview of the U.S.- dominated Market: Content Everywhere 2: Securing Canada's Place in the Digital Future ***
It is common knowledge that the market leaders who set the rules and control the rights over the most popular content all operate out of the U.S., thereby putting the Canadian market in a peculiar position.
Doug Murphy, President and CEO of Corus Entertainment, explains why he does not believe that HBO Now, the OTT service launched in the U.S. by the popular cable channel earlier this year, will be available to Canadian subscribers any time soon:
"We think they take enough money out of Canada between Bell and Corus that they don't need to worry about trying to go OTT in Canada. They're better off to tackle Asia or other bigger, emerging markets."
These two sentences sum up the complexity of the content rights market. Agreements, partnerships and strategies that are put into place must be analyzed from a global perspective—a perspective that makes the Canadian industry seem tiny compared with emerging markets, where IP traffic is growing, and growing fast. This is the case, for example, in the Middle East and Africa, where Cisco forecasts a compound annual growth rate of 44% between 2014 and 2019.
These markets will not be easy conquests, however, with hurdles such as broadband capacity and the corresponding costs to overcome. Moreover, in countries where Internet access is largely dependent on mobile telephony, data consumption limits will make it difficult or impossible to watch videos of any significant length. But the chief obstacle remains the challenge of securing global licensing rights.
Netflix wants to take over the world
According to Digital TV Research, Netflix is expected to close in on the 70-million subscriber mark by the end of the 2015, representing 28% growth. The number of international paying subscribers is expected to grow 57% to 23.36 million.

Global OTT TV & Video Forecasts, June 2015
This OTT service is clearly driving the globalization of the digital content market. Earlier in the year, Netflix announced bold plans to spread to 200 countries by the end of 2016. Progress toward this goal has been made, as the map below shows. Netflix is currently available in 79 countries and protectorates around the world.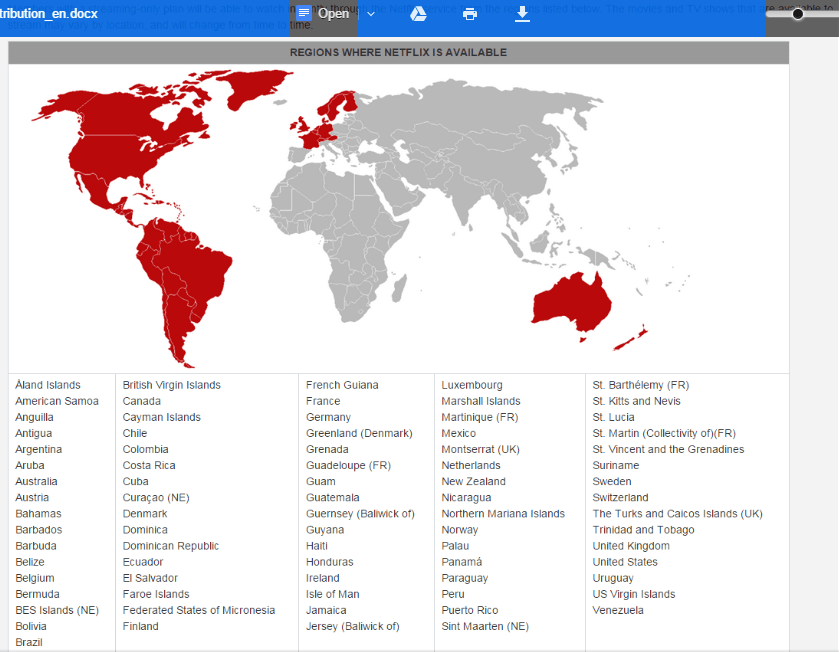 Source : Netflix
What is currently keeping Netflix's international ambitions at bay, however, is the matter of licensing rights. There are two options available to Netflix to expand into a large number of as-yet untapped markets in a small amount of time.
The first option: launch a global player that is accessible everywhere, with a catalogue of content for which Netflix possesses a global licence, while continuing to roll out specific services in more important markets.
The second option: step up original content production for which Netflix holds all licensing rights (which incidentally does not apply to the first programs it released, such as House of Cards). As Netflix's Chief Content Officer Ted Sarandos recently stated: "Right now, our original programming spend has been more efficient dollar for dollar than licensed content. On the original content programming side, our appetite has only grown… we're moving (spending) from efficient to super-efficient."
If the call for original programming and its popularity does indeed continue to grow, the process may very well erase territorial boundaries in this market. What promises to complicate matters is that Netflix is only the first of a growing number of players in this landscape, with Amazon, Yahoo, YouTube and others all vying for a piece of the pie.
With regard to Amazon, for example, Jay Marine, Vice President of Amazon Instant Video in Europe, says that: "We're going to continue to double down in [content], invest more to bring our customers worldwide more originals, more great TV series that they have never been able to see before."
This strategy was echoed earlier in the year by Amazon Studios' Vice President, Roy Price: "We look forward to expanding our production efforts into feature films. Our goal is to create close to 12 movies a year with production starting later this year."
Big Spenders 

Netflix, Hulu Plus and Amazon Prime are going to be a godsend to Hollywood's major studios in the coming years, if projections issued Thursday from RBC Capital Markets are any indication.

Analyst David Bank estimates that the three biggest subscription VOD services will spend a collective $6.8 billion on programming in 2015. Not only does that represent a healthy increase over the $5.2 billion estimated to hit the studios this year, but he expects double-digit year-over-year increases in SVOD syndication spend for "years to come" taking into account the aggressive international expansion of companies like Netflix in particular.
So why are OTT services rushing headlong toward the global market? The answer is simple: the slowdown in domestic subscriber growth. The international video-on-demand (VOD) market, on the other hand, is expected to leap in value from US$25.30 billion to US$61.40 billion in 2019. The North American market segment remains at the head of the pack in terms of revenue, but the outlook is the most promising in Asia Pacific, Middle East and Africa.
For comparison's sake, the global film industry made a total of $36.4 billion in 2014.
One world, one cultural landscape?
As globalization pushes forward, the new, flatter content landscape we find ourselves in is a matter of increasing relevance.
A striking example of this occurred in April 2015, when France's TF1 group, Germany's RTL Deutschland group and the U.S.-based NBCUniversal announced a two-year deal to produce three new American series to be shot in North America, with U.S. distribution.
This partnership is first and foremost a financial one, enabling the three parties to share the corresponding costs. However, the two European partners are also eager to create a ready supply of their own U.S.-style programs (chief among them Law and Order–type police crime procedurals) to satisfy their audiences' seemingly insatiable appetite for this type of content.
---